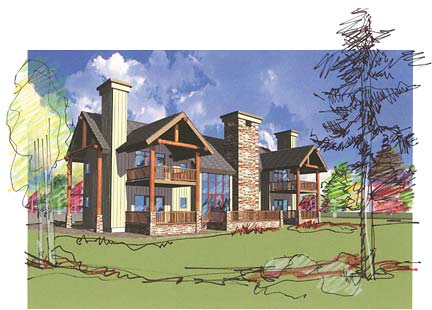 Artist's rendering of The President's Home at Hidden Lakes

A Quiet Boom

Housing developments centered around recreation shift into high gear in North Idaho
By Mike Gearlds
Tucked into lush valleys or perched on a mountaintop, new developments with outdoor recreation as their focus are a growing market in area real estate. More than 1,400 new condominium units and single-family homes are planned over the next 10 years at three locations: Hidden Lakes Golf Resort, Schweitzer Village and Stoneridge.
That rate of construction is nearly double the 120 to 150 new homes Bonner County sees in a typical year. These three developments, carried out simultaneously, are poised to create a construction boom like nothing the county has ever seen, not to mention the explosion of available vacation accommodations that will follow.
The focus of these new communities is convenient outdoor recreation – "convenient," as in "right out the front door" for owners to golf, ski, hike, canoe and otherwise delight in the North Idaho lifestyle. On-site property management usually is an option for buyers who want their home or getaway to earn rental income when they're not enjoying it themselves.
In addition to private owners, corporations and investment partnerships have been strong customers for properties in recreation-centered developments – using them for company vacations, performance incentives or income-generating investments.

Hidden Lakes Golf Resort
With an award-winning clubhouse and a host of golf-industry awards in hand for its scenic course, Hidden Lakes has become a major attraction in North Idaho.
"Two years ago, we transitioned from a golf course to a golf resort," says Erin Maher, in charge of business development for Hidden Lakes. "This year, we've become a destination resort."
In addition to home sites along the fairways, owner Villelli Enterprises, Inc. continues to expand the size and scope of the development. Eventually, it will embrace single-family homes and condominiums on almost 1,000 acres on both sides of Highway 200 at Pack River and on Lake Pend Oreille waterfront at Trestle Creek.
The first condominium project, Cottonwood Lodge, is set to begin this year. Each of its 36 units will consist of three individual lock-out suites, so owners can use one suite and rent out the others. The resort's premium investment properties are The President's Home – 3,800-square-foot mini-lodges with four private, lock-out suites that can function as a stand-alone home or a rental investment. Construction on The President's Home sites began this spring.
Hidden Lakes provides a rental management program for properties at the golf resort placed in the rental pool.


Schweitzer Village
White Pine Lodge, Harbor Resort's first residential development on the mountain, features 50 fully furnished condominium units, underground parking, retail space and a health club – all at the base of Schweitzer's ski runs and trails. Harbor plans eight or nine more condo projects over the coming decade.
"We'll grow to more than 400 similar units over the next 10 years," says Stan Hatch, director of real estate sales. "We refer to this project as pointing toward Middle America, because it does generate cash flow. So far, everybody but two corporate purchasers are going to rent at least part of the time."
Schweitzer Property Management provides rental services and housekeeping for condo owners, who can specify when they want to use their property and when it is available for rent.
Retailers and restaurants in the White Pine Lodge's ground floor were up and running by Christmas 2001, and Harbor expects to fully complete the 75,000-square-foot, $15-million project in July.
Billed as one of North America's only true "ski-in, ski-out" residential developments, Schweitzer Village is poised to take advantage of the expanding winter sports facilities and year-round activities offered at the mountain.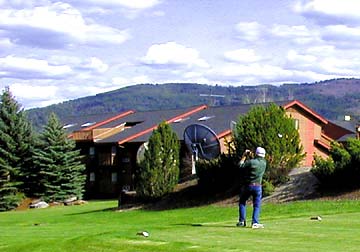 Stoneridge's time shares on the course


Stoneridge
Owner Bridge Partners, Inc. is expanding this development near Blanchard into a 650-acre, master-planned "family-oriented golf and recreation community." Stoneridge is centered on a recently rebuilt "19-hole" golf course and 34-acre Lake Sans Souci.

Stoneridge will include single-family homes, condominiums, stores and other commercial areas. Places are set aside for parks, open space, pedestrian trails, and camping and RVs. The master plan will be implemented in phases over a 10-year period.

Two of the five planned residential areas have been designed: The Fairways includes 59 single-family homes, two condo buildings and the Ironwood Condominiums 10-building group; Creekside has 53 single-family homes. The golf course clubhouse will be rebuilt this next winter and spring, and will feature a lounge, restaurant and pro shop.

The revamped golf course reopened in May, with a non-scored 19th hole, reshaped holes and bigger greens, new water features, an expanded driving range and a wine-tasting area. More than 450 trees, 4 acres of water, native boulders and white silica sand from southern Idaho were added.

"Bridge Partners came in and built a championship golf course first, then developed a community around it," says Dave Estes, Stoneridge's PGA head golf professional.


First-time Sandpoint Magazine writer Mike Gearlds works from his home between Hope and Clark Fork.

Marketwatch: Confidence returns after 9-11

Reflecting the national economy, local market activity initially was down after the World Trade Center towers fell last September, then rebounded as general confidence returned. Interest increased in small-town housing markets, away from big cities and considered safer and less hectic, and the Sandpoint area was no exception.

"After September 11, that third quarter saw listings down 4 percent from the previous year, then market activity increased in the fourth quarter," said Debbie Ferguson, president of the Bonner County Association of Realtors (BCAR). "The general feeling in our market is September 11 made everyone pause and take a good look at their lives. People are re-evaluating things and making quality-of-life choices," she said.

"Properly priced" is the new mantra for local real estate success. Average sales prices in the Sandpoint area are down, to just over $110,000, but average days on the market (DOM) for new listings dropped dramatically – 2001 saw 112 DOM, compared to 213 days for 2000. All 2001 listings totaled $303.4 million, up 13 percent over 2000, and 2001 sales were up 16 percent over the previous year, jumping to nearly $83 million. Preliminary figures show first-quarter 2002 home sales were up by 26 percent over the same period a year ago. Will the return of economic good times for the nation help the local market overcome high unemployment and lower sales prices?

"Economists are forecasting a banner year for real estate in 2002 nationally," said Bill Lewis, BCAR executive officer. "People are looking to come to an area like this. We don't see any reason why it also shouldn't be good here."