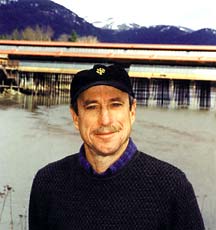 Photo by Billie Jean Plaster
Scott Glickenhaus

Feature Interview with the Cedar Street Bridge Developer
Born in the United States, Scott Glickenhaus, renowned locally for developing the Cedar Street Bridge, spent his first nine years living in Panama and then attended schools on the East Coast. An inveterate traveler with a pronounced fondness for the out-of-the-way and out-of-the-ordinary, Glickenhaus found Sandpoint the perfect place to settle down and create a home. He brought with him his Swiss-born wife, Erika.
Meantime, in 1971, the bridge over Sand Creek on Cedar Street connecting downtown Sandpoint to the local railway station was closed to vehicular traffic. Later, in 1980, it was condemned – that meant no more pedestrian traffic – by the City of Sandpoint. Glickenhaus saw this as an opportunity to create a little piece of Europe in the heart of the Rocky Mountains, and the Cedar Street Bridge, the most unique building in town, was born in 1983.
Two decades later, Scott and Erika have raised two children. Their son Jazz, a sculptor, is 26, lives in Sagle and shares his father's passion for climbing. Kaja, their daughter, has just graduated with a master's degree from Lewis and Clark College and, after a stint in Mexico to learn Spanish, will work as a school counselor. Scott is still working on his vision for creating a vibrant, colorful and exciting downtown, and he is focusing his attention on preventing what he sees as the biggest threat to that – a highway bypass along Sand Creek.
A private man who prefers to keep a low profile, Glickenhaus shared in this interview what he believes would be true downtown revitalization.
Q. Everybody seems to have heard of Scott Glickenhaus, but not very many people seem to know who you really are. Who is Scott Glickenhaus, and where did you come from?
How long a story do you want? In 1947 my father got a job to go help my great-uncle with a retail business in the Republic of Panama. We moved there when I was 2 months old and I grew up (there). My first language was Spanish; I didn't learn English well until I was 9 years old. I grew up in a very privileged family, for Panama, and learned to have a great affinity for the underprivileged. I used to go home with the maids on the weekend, and I hung out a lot in the barrio – the ghetto. My grandmother had come to visit us in Panama, and she couldn't talk to me. I think that really bothered my mother, (so) my parents sent me off to a boarding school in Connecticut when I was 9. I went to college at the University of Denver and graduated with a double major in psychology and business. I had spent several summers in a climbing school in Switzerland as a teenager, and in 1974 I lived there for a year. Life was good. That's where I met my wife, Erika. She sold me some pitons and carabineers. Marrying her was the best thing that ever happened to me. With some partners, I had bought 40 acres in Paradise Valley in Bonners Ferry, and on the way (to see it) I saw Sandpoint. It was a new frontier, and I was definitely looking for a wilderness area to live in.
Q. How did your creation of the Cedar Street Bridge come about?
I'd been to Florence, Italy, and seen the PonteVecchio. It's this great bridge full of silver and gold merchants and housing over the Arno River. It's a fabulous shopping and eating and people-watching place. You can lean over the bridge and look down at the scullers in the water right in the center of downtown. So I did a little studying to see what people need and like. At that time across the United States, the "Main Street America" revitalization effort for downtowns was going on. I (learned about) James Rouse and his work, revitalizing the inner-city into a colorful place of shopping and eating. People like to sit; they like sun and shade; and people love water. Those are the things you need to have a vibrant downtown, the colors and the smells. Those were the ingredients that went into (and) helped create the flavor of the Bridge.
Q. Talk a little bit about how you built the Bridge.
I hired Jonathan Stoumen, a passive solar architect, and we proceeded to design a building. We scoured the Pacific Northwest for the logs. They were all standing, dead trees; we didn't want new logs that would shrink and twist. The framework was constructed in Montana; then the logs were numbered, and it was dismantled and shipped here. We brought in a crane to raise the building. This was predominantly a logging town, so the logs were appropriate, and they're mixed with the modern glass. It makes it feel peaceful when you walk in there. And it's roomy, an antidote to cabin fever. That was part of the psychology. We had all kinds of different stores in there, lots of good smells and we had a fruit stand up in front.
Q. You've publicly taken a stand against the proposal to put a bypass down Sand Creek. What's the problem?
Right now it's like we're having our arm and our leg cut off, and we're resigned to it because they're telling us we're going to get the best prosthetic ever made. We need Sandpoint to attain its long-term potential. Placing a bypass down Sand Creek will prevent the town from reaching its full potential as a destination rather than a through-stop town. Americans like instant gratification; humans like to create problems and then solve them. ITD is planning 15 years into the future versus looking 50 years out and solving those problems today. After being in this town for 30 years, I realize that time goes by quickly. We need to be planning for our grandchildren and our great-grandchildren. A two-lane bypass gives instant gratification and creates a long-term huge problem for the economic center of Bonner County – downtown Sandpoint.
| | |
| --- | --- |
| | dd |
| | |
| Glickenhaus is rallying opposition to the Sand Creek bypass that the Idaho Transportation Department plans to build through the downtown in 2004. Opponents fear the massive structure and attendant noise and pollution will destroy Sandpoint's waterfront ambiance. ITD has more info at www.sandcreekbyway.com; opponents counter at www.sandpoint.org/sandcreek. | |
Q. Is the Idaho Department of Transportation the bad guy?
ITD is doing what they do best – building highways. I think they've been negligent. Everybody knows when your town gets bypassed, it withers. Will the federal government, which is financing the project, be there for the owners and employees of failed downtown businesses?
Q. Isn't the bypass already a "done deal?"
Absolutely not. How can it be when it's not there?
– Trish Gannon