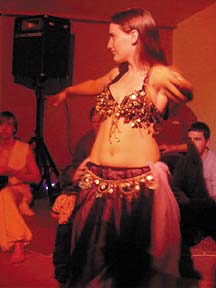 Sola teaches a belly dancing class at NIAC. Photo by Ellen Weissman.
Artful center delivers on promise
Just a little over a year ago, Jennifer Goldblum realized her vision of a place where everyone – from children to the elderly – could discover and celebrate the world of art. Along with a group of fellow local artists, performers and residents, they opened the doors of the North Idaho Arts Center (NIAC) downtown.
A year later, the group has made great strides in delivering on their promise of a venue for the arts with music jams, drumming lessons, creative dance, paper crafts, hand sewing, play reading and even cooking. NIAC's popular "Last Friday" Open Mike Night is a talent-sharing jamboree held on the last Friday of every month at the center. Beginning at 6:30 p.m. with a potluck dinner, Last Friday features both performance and exhibition, with visual art displays, and music and literary performances.
Weekly classes at the center include watercolor, belly dancing, guitar lessons and Spanish, all well attended. The center also features a monthly World Travel Slide show that has proven popular with locals.
The center, now located at 1201 Michigan in Sandpoint, may be reached at (208) 265-4148, or via email at [email protected] for more information on its current line-up of classes and events.
"This is definitely an arts community," Goldblum said, after almost a year of operating the center. "There's always a lot going on."
– Trish Gannon