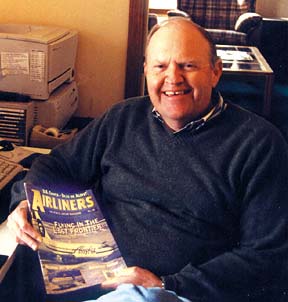 Editor-In-Chief Jon Proctor poses with an issue of Airliners at his home office in Sandpoint. Photo by Billie Jean Plaster.
Airliners editor hails from Sandpoint
The next time an airline disaster strikes, don't be too surprised when you hear the authoritative voice of Sandpoint's own Jon Proctor on venues such as National Public Radio (NPR). As editor-in-chief of Airliners: The World's Airline Magazine, Proctor is often called upon by the media as a source when airline-related news breaks.
A child of an airline family, Proctor grew up loving airplanes. His father was a pioneering pilot who flew in both World Wars and retired from American Airlines at age 60. Proctor led a life in the airline industry, too, completing a 27-year-long career with TWA in 1991; his last position was flight service manager. After taking early retirement, he moved to Sandpoint from Connecticut and eventually became the editor for Airliners, which is published bimonthly by World Transport Press in Miami and distributed worldwide.
As soon as Proctor became editor in 1999, calls from the media started pouring in – when a major accident occurs, airline policies change, mergers happen, labor issues arise or new aircraft are introduced. Whenever he airs on NPR's All Things Considered, Proctor gets looked up by old friends. "I've gotten calls from people I haven't heard from in 20 years, and I get calls from readers," he says.
Proctor enjoys hearing from Airliners subscribers, who he describes as fellow "airplane nuts" – aviation enthusiasts, employees, historians or anyone with an interest in the industry. But what he enjoys most about his job is being immersed in the industry he loves while enjoying life in Sandpoint.
"The best part about having a home office is the 30-second commute," he quips.
www.airlinersonline.com
– Billie Jean Plaster