You've spent the day skiing at Schweitzer, maybe even skiing all 2,489 vertical feet of it several times. You've ridden Stella; you've explored The Northwest Territory; you've had a wonderful dinner at one of the many fine restaurants up on the mountain. Your thighs are still burning from that one last run down Springboard, and now it's time to kick back and relax in the hot tub, while you gaze at the view of Lake Pend Oreille from 5,500 feet.
"This is the life," you say to yourself. And you want to do it all again tomorrow, and the day after, and the day after that.
This is the picture Harbor Resorts has in mind as it takes reservations for White Pine Lodge, the first residential development in Harbor's planned Schweitzer Village.
"This is the cornerstone building for the village," said Jay Lukan, vice president of real estate for Harbor. "We have a lot of big plans and lots of on-mountain improvements." Big plans is just one way to describe this $15-million project.
Located right at the base of Schweitzer's trail system, the 75,000-square-foot White Pine Lodge is an exciting step in developing Schweitzer Village, which Harbor bills as one of the "only true, ski-in, ski-out villages in North America." Occupancy is set for April 2002, and construction began in the spring.
In the year to come, Lydig Construction of Spokane will be building 48 fully furnished condominiums with 6,000 square feet of retail space on the ground floor and two floors of heated, underground parking. Each condo will include private balconies, stone-faced gas fireplaces, vaulted ceilings, and ceiling-to-floor windows, according to the fact sheets for White Pine. In addition, each unit will have either a view of Lake Pend Oreille and the Cabinet Mountains, or a view of Schweitzer Mountain itself and the village. The description in the design concept and renderings for the Lodge reads: "The suites ... follow a unique, whimsical concept inspired by the locale with a contemporary twist on the Western theme."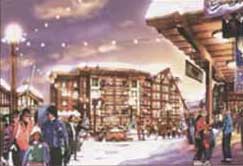 Lukan adds, "(The Lodge) includes two outside hot tubs overlooking Pend Oreille, a great room with a wet bar and fireplace, and a fully equipped health club.
"White Pine and all future developments (at Schweitzer Village) are going to be sold to people who live in places like Seattle and Spokane, who will want to rent (their condo) when they're not on the mountain themselves." Lukan said. "White Pine is going to operate somewhat like a hotel, with Schweitzer doing all the property management and housekeeping."
That's right. Whenever you want a day, a weekend, a week on the mountain, the condo is yours. And when you don't, the mountain itself is going to take care of renting the condo out, putting money in your pocket while you daydream about deep powder and the view from the top of the quad. This business model has worked well for both Harbor and condo owners of its initial project, the Selkirk Lodge.
If beauty is in the details, then White Pine Lodge will be gorgeous. Insulation in the building will exceed building codes, and windows will be European-made, high-performance insulated vinyl with low-E dual glazing. Units will be separated with sound insulation and double-wall construction.
"Each unit is fully furnished and has a fully equipped kitchen," said Lukan. When he says fully equipped, he means it. "That includes everything from the toaster to the corkscrew," he added. The kitchen areas feature all-wood cabinets, granite countertops, and full-size, name-brand appliances.
By early April, before the first shovel touched dirt, Harbor had already received 50 reservations for the 48-unit project, a testament to the excitement about Harbor's plans for the entire mountain. Prices for the units range anywhere from $221,000 for a one-bedroom condo, to $650,000 for three bedrooms. "There's always some attrition," said Lukan, but this early interest in the project is a good sign for the success of the entire village. "Our goal is to build 450 units in eight years," Lukan explained.
That fits well with Harbor's philosophy of build and hold. "The company firmly believes that development must meet demand sensitively, adapting to, not working against, its environment and local interests," according to company literature. "Harbor is determined to change and grow Schweitzer responsibly, so that its beauty and excitement will be enjoyed for generations."
Trish Gannon also wrote the "Playing on the Lake" story.
Marketwatch: Small steady growth with a boon from commercial developments
"Residential sales are still the hot ticket," said Steve Van Horne, a Realtor and associate broker with Coldwell Banker Resort Realty in Sandpoint. "Homes in Sandpoint are probably the most active, as are condos, but country homes are beginning to be active."
Overall, the real estate market in Bonner County is right on course with where it has been in the last several years -- one of small, but steady growth in prices and sales. Homes are selling a little bit quicker now: The average for 2000 was 184 days on the market, compared to 310 days in 1999, according to Bonner County's Multiple Listing Service, and those homes are selling for an amount close to their listing price.
"We're seeing property close at well over 90 percent of its listing price," Van Horne said. And while he characterizes the entire area as "a good place to look," for investment property, he warns that the days of "making a killing" are probably over. "People looking for a big-time bargain are not likely to find one," he said.
Big plans at Schweitzer Mountain should continue to have an impact on sales of homes throughout the region. "Schweitzer has been doing a very good job of making happy skiers, which makes for potentially happy real estate acquirers," Van Horne said. "We've been seeing an increased amount of looking from people buying at Schweitzer who want to compare prices and see what they might be able to buy down off the mountain."
Big plans out at Hidden Lakes Golf Resort are also an addition that does nothing but help values elsewhere in the community. "They've done a complete realignment of fairways and holes, plus they've built a beautiful, outstanding clubhouse. There's supposed to be 8 to 12 single-family homes built this summer, and only one is a spec home," he said. "The rest represent families moving to the area. They've put so much planning and care into the project, I suspect the golf course will be a huge success. That should have a nice impact on Sandpoint and its environs."
Downtown Sandpoint is also host to a few changes, one of which is the finished remodeling of the old building on Second and Alder, formerly the area's library, and a post office before that. See the story in the Almanac, page 8, for more details.
At the other end of town, at the corner of First and Pine, the long-awaited Vintage Court is nearing completion. One of the few three-story buildings in town, the Vintage Court will be home to Ivano's restaurant and deli on the main floor, office space on the second and condominiums on the third. Built by Baker Construction, the building is, Van Horne says, "beautiful. It's bright and airy and the courtyard is very attractive. It's a striking building inside, as well as outside, and makes a great contribution to downtown."