If you like to use two wheels and some pedal power to get around town, then North Idaho Bikeways has some good news for you: It is well on the way to turning Sandpoint and surrounding communities into bike-friendly towns.
With three projects already completed, an asphalt bikeway connecting Sagle Road with the Long Bridge and another running from Dover into Sandpoint, along with a path along Sand Creek to the north, the group's leaders are ready to continue their efforts.
The Idaho Transportation Department began construction on a path from Division to Cedar, as soon as weather allowed. This will be a continuation of the Dover path and will eventually connect to the Boyer Avenue/Popsicle Bridge project; Popsicle Bridge crosses Sand Creek on the west side of Highway 95 just north of town.
"It's going to be a huge network," said Angela Potts, vice president of North Idaho Bikeways, in describing a trail system that will eventually connect Sandpoint with its neighboring communities.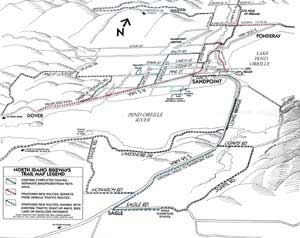 It was Bob Carlson, now president of the group, who in 1994 first proposed the connected series of bike paths after seeing a similar arrangement in Boulder, Colo. "He deserves a lot of credit for seeing what could and should be done," Potts said. "Over 25 percent of the community of Boulder is using (their path system)."
That's a percentage this area might reach as well. "We did an informal survey. An average of 250 people a day are using the Long Bridge-Sagle trail in the summer," Potts said.
That number can only grow higher as the path system expands. "We truly are connecting our communities," she said. "All the communities are talking, and we have a master plan. And slowly but surely, it's being built."
www.sandpoint.org/idahobikeways
-- Trish Gannon