Boulder City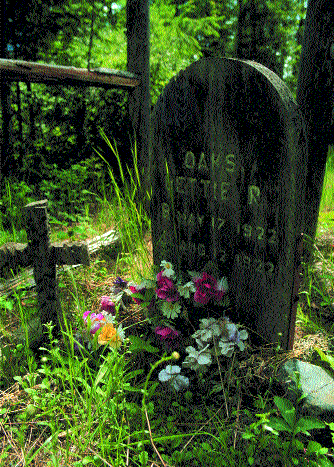 Photo by Barb Pressler
By Trish Gannon
We saw "Boulder City Ghost Town" on our Forest Service map, and wondered what it was like up there in that part of the Cabinet Mountains east of Bonners Ferry. Barb Pressler and I embarked on a venture one day last summer to find out. It was an easy drive for the most part, a paved road through the National Forest and then less than a mile on a rocky, bumpy road through the woods.
It would have been much harder to get there in the late 1800s when Boulder City -- then known as Ruby City -- jumped into existence. But gold provided an incentive for pioneers to hack out roads up the forested slopes of Katka Mountain and establish a settlement that still leaves traces visible today.
Ruby City perches precariously on the southern edge of a sheer gorge that drops into Boulder Creek. Here, the Idaho Gold and Ruby Mining Company separated gold from gravel in a process described by Thor H. Killsgaurd in a 1951 paper as "unique and grandiose in its proceedings," and as typical of "some of the wild and imaginative mining ventures that were prominent during early-day, Western mining."
On the day Barb and I traveled to the site, we ran into Don Worley, who grew up here and whose family helped settle the area. It was Don who said this landmark was known as Ruby City; he told us about the huge ruby his grandfather found in the creek there.
Tales of gold and precious stones the size of fists are undoubtedly what helped pioneers persevere in such a difficult area. Today, a scattering of decrepit foundations, spectral walls that rise from the undergrowth, and a quartet of gravestones surrounded by a simple fence stand in mute testimony to the lives and love, and laughter and tears that once rang high in the Cabinet Mountains.
To visit Boulder City, stop in at the Bonners Ferry Ranger District office on Highway 95 for a map and information.